Only Cooperation Can Save Royal Bengal Tigers
By Deepak Gajurel
KATHMANDU, Nepal, December 15, 1998 (ENS) - A three-day South Asian symposium on Conservation of the Royal Bengal Tiger concluded Monday by calling on national governments of the region to build trans-border and regional cooperation for tiger conservation.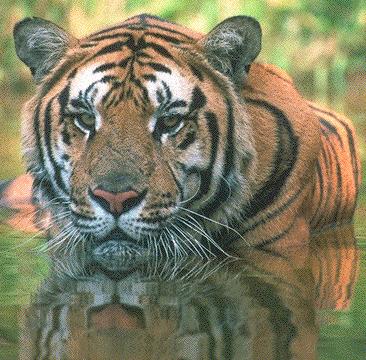 Royal Bengal Tiger (Photo courtesy Defenders of Wildlife)
Sixty prominent tiger specialists, wildlife scientists, conservationists, policy makers, planners and wildlife managers from Bangladesh, Bhutan, India, Myanmar and Nepal recommended a strong action agenda for the protection of the vanishing Royal Bengal Tiger. This species is still the most numerous on Earth.

These five countries are estimated to have a total Royal Bengal tiger population of 5,000, nearly the entire world population. Currently, a total of 109 Royal Bengal tigers roam in different national parks and wildlife reserves of Nepal, wildlife officials told the delegates.

The conference was held at the Royal Chitwan National Park (RCNP), 150 kilometres (90 miles) from here. A world heritage site, the Park is home to about 70 Royal Bengal tigers.

The conference was organised jointly by the Department of National Parks and Wildlife Conservation (DNPWC), the King Mahendra Trust for Nature Conservation (KMTNC) and the World Wildlife Fund for Nature (WWF).

The conference delegates concluded in the Chitwan declaration that, "there is an urgent need for regional and bilateral cooperation among the countries with tiger populations to save the Royal Bengal Tiger which is close to extinction."

"An action plan should be prepared immediately for the trans-boundary conservation among India, Nepal, Bangladesh, Bhutan and Myanmar," the Chitwan declaration stated.

"Unless trans-border cooperation is ensured, tigers are sure to become extinct," experts warned during the three-day deliberations. Trans-boundary cooperation between Nepal and India, India and Bhutan, Myanmar and Bangladesh is a must because wild animals recognize no political boundaries.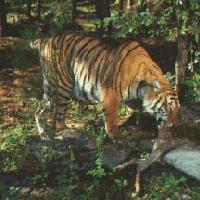 Royal Bengal tiger makes a meal. (Photo courtesy 5 Tigers)
Parsa Wildlife Reserve and RCNP in the central Terai (the southern plains), Royal Bardiya National Park in the mid-western Terai and Royal Shukla Phanta Wildlife Reserve in the far-western Terai are home to these endangered tigers. All of these protected areas share a border with India.

Records put the total number of tigers in the world one century ago at 100,000. But now there are a maximum of 7,000 tigers left in the world.

One eight subspecies of tigers roamed the Earth, now there are only five. Three tiger subspecies - the Javan, Bali and Caspian - have gone extinct in the last 60 to 70 years, experts said.

Tiger experts blame poaching, illegal trade in animal parts for Chinese traditional medicines, and habitat destruction as the main reasons for the extinctions.

KMTNC officials said a dead tiger is worth more than US$100,000 today, and its bones are in high demand in East Asia for medicinal purposes.

The remaining tiger subspecies are:
Bengal tiger (Panthera tigris tigris) - About 5,000 remain.

Chinese tiger (Panthera tigris amoyensis) - An estimated 30-80 tigers are left; this tiger may soon be extinct.

Indochinese tiger (Panthera tigris corbetti) - Only 1,000-1,700 remain.

Siberian tiger (Panthera tigris altaica) - Largest of the tiger subspecies, only 200 are left in the wild.

Sumatran tiger (Panthera tigris sumatrae) - Fewer than 650 remain.
Royal Chitwan National Park, which is celebrating the silver jubilee of its establishment this year, is the home to over 500 endangered one-horned rhinos, Royal Bengal tigers, gharial crocodiles and scores of other mammals as well as about 400 bird species. The park is listed as a World Heritage Site for its rich biodiversity.

© Environment News Service (ENS) 1998. All Rights Reserved.